---

Sorry! This page is Under Construction. Please try us again later.
APP wear pads are custom molded to fit a wide variety of applications. From forklift pads to boatlanding rubstrips, mounting on flat bar to pipes, each wear pad is produced to tight tolerances to fit as needed. High quality polyurethane wear pads provide excellent abrasion resistance, excellent structural strength, and high resistance to the environment and to chemicals. Other properties, such as low coefficient of friction, can also be incorporated into the design.
APP wear pads are used extensively in many industries, such as the Offshore Construction Industry, Petroleum Industry, Pipeline Industry, and Metal Processing Industry.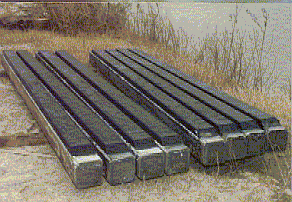 ---
If this page does not appear in a frame, click here to go to A.P.P.'s Home Page.
This page designed and maintained by American Polymer Products, Inc. All questions and comments to sales@app-epi.com